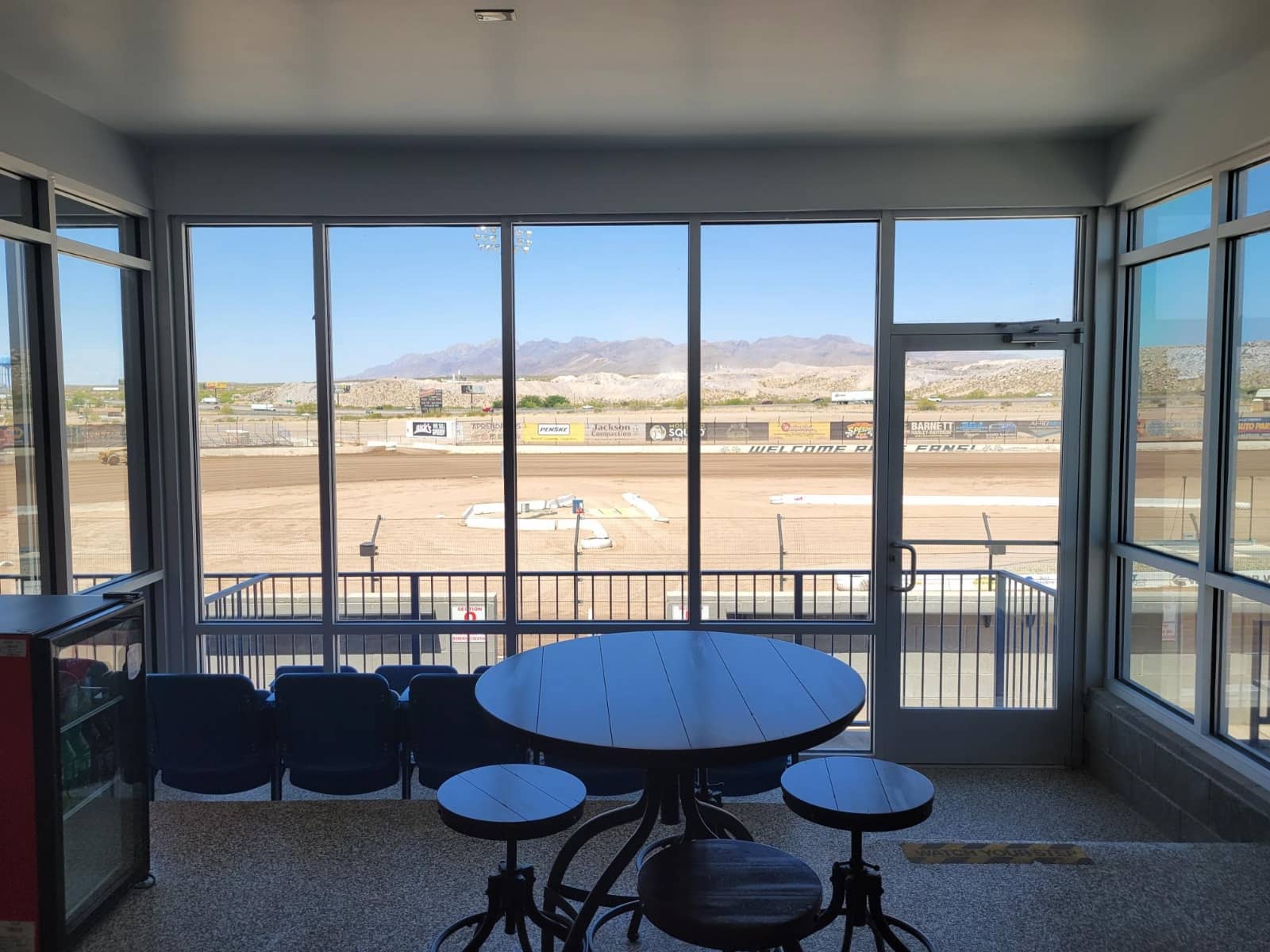 Ever wanted to enjoy the Vado Speedway Park action from a VIP suite? Now you can!
The Vado Speedway Park boasts sixteen private VIP luxury suites for use during our events. Our suites feature indoor and outdoor seating, rooftop access, a large flat screen tv, private security, private wifi, climate-controlled heat and air conditioning, a private bathroom, hightop table seating, leather couch seating, and chairback seating, plus a suite-specific bartender who will come into your suite to take your drink orders on a pay-as-you-go basis and you can order food via our concession stand app and it will be delivered to your suite, so you don't have to stand in line for food or beverages. It's the perfect place to enjoy what Vado Speedway Park has to offer from your own piece of luxury.
Rental Options
Season Long Rental
Season long suite rental is $25,000 and come with 25 complimentary tickets to every event held at the speedway. Based upon availability, this option is perfect for a business who would like to treat their employees or clients to a great time.
Nightly Rental
Suites are available to rent on any night that Vado Speedway Park is open (based on availability). Suite rental for a regular night of racing is $500 and for a special event for $750. You receive 6 complimentary tickets with your rental and are allowed to invite up to 19 more (for a total of 25) people to enjoy your suite with you. You can either pre-purchase the additional tickets or have your friends or family purchase their own general admission tickets and redeem them for a suite wristband once inside the speedway gates.
World of Outlaw and Wild West Shootout events subject to different pricing structure.
Individual Ticket Purchases
Based upon availability, the Vado Speedway Park reserves one suite each race night for individual ticket purchases. Tickets are priced $20 higher than an adult ticket price for the night (typically $35-40) and are limited to the first 20 people that purchase them. Once the 20 tickets are sold, ticket sales will stop.
To purchase individual tickets, simply click on the ticketing link on the website, choose the night that you would like to attend and click the Individual Suite Ticket option.
Ticket Sales Link
Fuel Your Passion for Speed at Vado Speedway Park